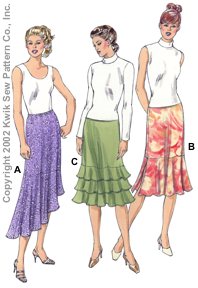 Pattern Description:
Pull on skirt with 3 flounce options: assymetric (A), tiered(C), and plain (B). I made views A (blue) and B (green).
Pattern Sizing:
S-XL. I graded up to XXL.

Did it look like the photo/drawing on the pattern envelope once you were done sewing with it?
Mostly. It isn't as long, either in the body of the skirt or the flounce as it appears on the envelope. I thought that the cause of that might be that I'm rather fat, but Gigi also thought it was shorter than the pattern envelope indicated.
Were the instructions easy to follow?
Very easy. I made the skirt exactly as directed.
What did you particularly like or dislike about the pattern?
I agree with Gigi that the 3/8 inch elastic is too skim
py for a skirt. I tried it to see what it looked like, and Gigi's assessment that it looks like a slip's waistband is right on.
I love the assymetric flounce. Fun, fun.
Even with a 3 month old, a 3 year old, and a husband, I was able to finish this skirt, including alterations, in 2 days. That's lightning fast for me.
Fabric Used:
Version A (blue): Lightweight, loose-woven rayon/acetate, almost gauze, from the clearance section at Joann's. I paid around a $1/yard. This fabric is washable in cold, hang dry, even tho the bolt says to dry clean.
Version B (green): I made view B as part of the stash contest. I changed my mind about the 3/8″ elastic and used it again. I lengthened both skirt and flounce by 1″, and finished the hem of the flouce with a rolled hem using a metallic green thread. I'm on the edge a smaller size, but this is one case where the Kwik Sew pattern does not run large. I'm very pleased with this skirt; I like it much better than the one with the assymetric hem.
Pattern Alterations or any design changes you made:
I used the serger to hem the flounce. I lack the patience to do a narrow hem on the sewing machine, but it's very easy to do on the serger.
I used Sandra Betzina's method on the waistband elastic, butting the elastic ends and zigzagging them together, using a small piece of fashion fabric to wrap the elastic. I find this makes a smoother waistband.
Next time I'll make the body of the skirt longer. Unlike Gigi, I like the length of the flounce. I'll also use a wider waistband.
Also, I think I'll use a heavier fabric. I'm lumpy, and the skirt clings. A heavier fabric would be pulled down more.
Would you sew it again? Would you recommend it to others?
Yes, it's a quick, easy, fun skirt.
Conclusion
Next time, I'll have to remember to check PattenReview BEFORE I make a pattern. I'm pretty sure I ordered this one based on Gigi's review, but I forgot about lengthening it and making the waistband larger.
I highly recommend this pattern.