Pattern Description:
The skirts are designed for woven fabrics. We suggest linen, linen types, rayon suiting, gabardine, corduroy, denim, twill and wool types. This fitted trouser style skirt offers a choice of three lengths. They have a fly zipper, optional front side pockets, a low cut waist with a shaped waistband and extension with a hook and eye closure. View A has a kick pleat at the center back. I made the long version.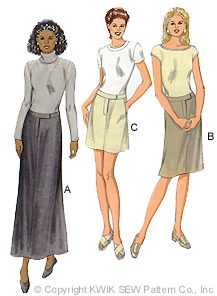 Pattern Sizing:
XS(hips 32.25 inches) – XL(hips 47 inches). I made the XL, and maybe if I hadn't fussed with the fitting so much, it would have been fine. More below.
Did it look like the photo/drawing on the pattern envelope once you were done sewing with it? Yes, I think it does … or it would if it weren't too big.
Were the instructions easy to follow?
They were. I sew at night after everyone else is asleep, so I'm tired. I'm also dyslexic which causes problems. I managed to put the waistband on so that the flap is an underflap. However, if I had been more awake when I did this, I think I would have caught it. Other than that, the instructions were great. I recently referred back to this set of instructions for help with another straight skirt.
This was the first time I put in a zip-fly. The instructions were very easy to follow.
What did you particularly like or dislike about the pattern?
LIKE: I like the style and the length.
DISLIKE: I think it should be pegged, but that is easy to do.
Fabric Used:
Brown zebra print stretch twill, polyester I think, from Joann's.
Pattern Alterations or any design changes you made:
I wanted the skirt to be big enough when I sit down, so I made the finished hip size quite large. Sleep befuddled that I was, I made everything bigger which I shouldn't have; the waist & wasitband fit fine the way they were. However, it's just too big in the lower hips. I keep fiddling with it, taking it in, adjusting curves.
And I put the waistband flap on wrong which really doesn't work. I think this mistake is going to make the skirt a wadder.
Would you sew it again? Would you recommend it to others?
I want to try it again. I like straight skirts. I like the style. I want to get the waistband flap on right.
Conclusion
Clear and complete instructions.